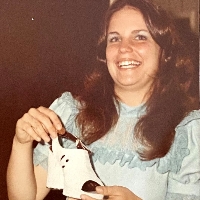 Kathleen Bernadette Murray Gere
Kathleen Bernadette Murray Gere
Arriving on the scene in January, 1955, Kathy spent her early years in the Philadelphia suburbs bonding with her parents Patrick and Bernice, with her older sister Mary Lou and her three younger brothers: Patrick, Michael, and Johnny. When she was a teenager, her mother and family moved to Parkville, Maryland. Kathy attended high school in Baltimore County and later attended college at the University of Maryland and also Loyola college.
During her 20s Kathy and her husband formed a family and she had three children: Caroline, Christopher, and Thomas Joseph Junior. The children and later the eight grandchildren who followed became a cornerstone in her life.
Besides raising children, Kathy held a variety of jobs: in the educational field as a substitute teacher; in the retail industry as a sales associate; and primarily in the healthcare field as a Certified Nursing Assistant. She also volunteered for the Maryland School for the Blind and Our Lady of Fatima Society.
Her strengths were evident as a mother and in her career choices: compassion, generosity, kindness, laughter, and love.
As a mother, she was always compassionate. She taught valuable lessons about generosity and kindness, laughter and love throughout her life by her example. She would always remember birthdays, special moments, and surprise people with spontaneous gestures. Thesame thing could be said about her work history. Kathy was kind, thoughtful, a hard worker, and generous with her time and talents.
As an expression of her love, Kathy would say to her children "Good night, sweet dreams, God bless you, I love you" when it was their bedtime.
The great joys of her life were her grandchildren. She was a doting grandmother: helping with homework, babysitting, watching old movies, holiday gift giving, sharing stories and adventures and showering them with affection, attention and presents.
Kathy also had a whimsical sense of adventure. She loved to drive and discover new places. She was fascinated by exploring less traveled roads.
In early years she loved to recite from memory romantic poetry that spoke of boundless love. Her entire life embodied that spiritual ideal. A confident and avid swimmer, she loved and felt connected to the ocean.
When she stopped working, she continued to help members of her family who required care and assistance. She continued that compassion and sacrifice throughout her life.
Loving mother of Caroline Crouse, Christopher Gere (Genevieve) and Thomas Gere, Jr. (Shayna). Proud grandmother of Dominic Crouse, Bailey Crouse, Jayden Crouse, Sean Gere, Nathan Gere, Mason Roseberry, Elizabeth Gere and Ava Gere. Survived by her mother Bernice Murray, siblings Mary Lou Gere (Gerald), Patrick Murray, Jr., Michael Murray (Karen), John Murray (Kelly), Mom Mom Anne and uncle John J Regler. Predeceased by her father Patrick Murray, Sr., great grandmother Caroline Scotese, grandmother Louise Regler, grandfather John Regler, grandmother Mary Murray, grandfather Henry Murray, and nephew Gerald Gere, Jr.
Kathy's life was filled with acts of compassion, generosity, kindness, laughter, and love. The best way to honor Kathy is to emulate her finest qualities.
Come celebrate 66 great years Thursday 6-8 p.m. at Daley Life Celebration Studio, Swedesboro, NJ where there will be an 8 p.m. storytime service. Mass of Christian Burial will be celebrated 10:30 a.m. Friday at St. Thomas the Apostle Church, 430 Valleybrook Road, Glenn Mills PA where there will also be a viewing from 9:00 a.m. Interment, St. Thomas the Apostle Cemetery.