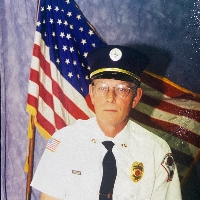 Joseph Slusar
Joseph Slusar
Joe started with the Woolwich Fire Company at a young age as a junior fireman and spent a lifetime in service with both the department and the ambulance squad. When the siren sounded many a dinner was cut short and many an evening's rest interrupted to help his fellow residents in their darkest hours. He'd inspire two generations of firemen behind him. He kept the trucks in tip top shape; Joe could turn a wrench with the best of them. Probably dated back to his days doing small engine repair with his dad at the Homestead. He'd later move his repair shop behind his house. Often the shop was more of a social affair with dozens of people coming and going and hanging out. But, if it was broke, you knew Joe could fix it. He was proud of his service to our nation; he enlisted in the Navy just out of high school and served in Vietnam on an aircraft carrier. And yes, he kept everything running smooth there as well. If he got out of the area he'd most likely be heading off to the woods, shotgun in hand (he started the Tall Pines Gun Club in 1964) or off on his boat for a little angling. And in his later years he did a little snorkeling in the islands. As a grandfather he was always there with a little wisdom: "Here's 20 bucks. I don't push cars and I don't do bail." He would however change a flat from time to time with hardly a complaint. He cheered for the Phils but would commiserate about their losses with a few choice words. Joe was a graduate of the first class of Kingsway Regional and retired from the turnpike in 2002 after 33 years of service.
Freshman year at Swedesboro High he'd meet a pretty girl named Catherine. They'd share a 57 year marriage blessed by two children: Brian (Chrissy) and Kim Thompson (Tommy); his grandchildren, Renee (Bobby) Ferrell, Brianne Slusar, Joseph Slusar III, Nicholas Thompson and Zachary Thompson; and his siblings: Carol Dupper (Bill), Darlene Gage, Jerry (Marylou), and Kathleen Hurff (Edgar);
Come celebrate 78 great years Wednesday 6-8 p.m. and Thursday 10-11 a.m. at Daley Life Celebration Studio where there will be an 11 a.m. service. Interment Lake Park Cemetery.