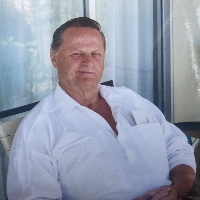 Joseph Nickerson III
Joseph Nickerson III
Joseph Nickerson III
Joe was born 14 April 1937, to Joseph Nickerson Jr and Lottie Anna Dick. He lived his entire life on the same block in Swedesboro and was known to all as Joe Nick.
In the summer of 1960, while racing cars with friends (perfectly legal back in the day), he saw a pretty, blonde-haired girl sitting in a car. He took that opportunity to walk to the car, lean into the window and say "Baby, I'm going to marry you". And marry her, he did. Joe and his wife Priscilla were married for 62 years. Throughout the years they showed way more displays of affection than their four children could stand. They were truly in love for the entirety of the sixty-two years they spent together.
In his younger years he worked at the Auction Block in Swedesboro loading trucks, a laborer for Erdner's, an antenna installer for Marino's in Clarksboro with is brother-in-law and friend, Gerry. As an adult he was a lab technician for DuPont, and finally a member of management at Mobil Oil in Paulsboro where he was the oldest retiree on record. His work ethic was second to none. In the words of a co-worker and family member, "Old Joe Nick was quite a character. Amazingly smart. I got to work with him at the plant and watch everyone go to your dad with questions or advice. Everybody went to Joe Nick…young engineers too. He was considered a genius. It was something to witness."
Joe was an ardent and impressive builder of model airplanes and cars and participated in numerous model contests held by Dupper's Hobby Shop on Kings Highway. And he was always the go-to for his kids when car troubles arose. He could build and fix anything.
Joe and Priscilla traveled the world. Via a work opportunity with Mobil Oil, dad and mom relocated to New Zealand for a few years making many friends and acquaintances. They spent many summers at their shore place in North Wildwood, where he dutifully accompanied his wife to sit in the hot dirt; otherwise known as the beach to the rest of us.
Joe also served his country for 10 years as a member of the New Jersey National Guard. During his tenor, he received decorations and citations as an expert marksman and was a Chemical Operations Sergeant.
Joe is survived by his wife Priscilla (Clevenger), four children: Eleanor Stokes, Kathleen (Mario) Correa, Joseph Nickerson IV, and Loretta Nickerson. Four grandchildren Ashley Stokes (Gary) Pizzichillo, Kyle Stokes (and their father Glenn W. Stokes), Nichole Correa and Gina Correa. He is also survived by three great grandchildren Giuliana, Antonino and Gianluca Pizzichillo.
Joe was one of nine children and is survived by his siblings, Rosie Shute, Charlotte Spencer, Bill Nickerson, and his very favorite sister Gertie Gentile. Joe is predeceased by sisters Dorothy, Joan, Shirley, and Eleanor. Joe is also survived by many nieces and nephews with a special shout out to Gerry Michaels Jr., Kurt Dillion, Allison Thomas, Janeen Seagreaves and all the Gentile kids.
Joe was a beloved man and had a well-lived life.