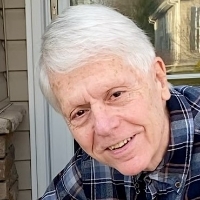 Joseph Morino
Joseph Morino
Joseph Morino was born January 27, 1937, in Brooklyn, NY, son of Amilcare and Lena Morino, and brother of Aurelia. Joe (aka Joey) grew up on 92nd Street and graduated from St. George Academy. Joe majored in economics at St. Francis College and served our nation in the Army National Guard and as a Reserve of the Army. He loved playing street hockey and enjoyed playing and teaching the accordion. While attending the St. Patrick's Day dance at St. John's in 1958, Joe met a pretty girl named Kathy. When Joe asked Kathy to dance, he said: "Are all the girls at Franklin K. Lane as pretty as you?" A few years later they were married on December 30, 1961, they shared a 61-year marriage together, and were blessed with two children, Kathie Ann and Christopher.
Joe and Kathy enjoyed traveling. They went to Bermuda and Puerto Rico for their honeymoon, enjoyed 36 wonderful days in Europe in 1963, and loved going to Montauk Point and staying at Gurney's Inn. After marrying his beautiful Kathy, Joe continued his education obtaining a master's and post-master's degree in Elementary Education and Specialization in Reading. He spent the next 35 and a half years teaching, both in the classroom and as a reading specialist. During his teaching career, Joe spent various nights, weekends, and summers managing the family restaurant Sloppy Louie's, a Lower Manhattan seafood mainstay located in the South Street Seaport. This was a family endeavor, with many relatives working in the restaurant during its 68 years. The restaurant doors were closed in 1998, but Joe wasn't ready to retire again. He then took a job as the principal of a private Christian school where he worked for several years and finally retired for the last time in 2006.
Joe had a great love for music; he played the piano and keyboard but is most remembered for playing the accordion. You can always count on Joe to grab the accordion to sing happy birthday and do sing-a-longs at parties. He even took his Cordovox accordion on the road for a season and played weddings and other events as Joe the One-Man Band. Many years later he focused on playing the keyboard and enjoyed playing at home and at Church each week. Joe was also a big fan of baseball and hockey. After his favorite team the Brooklyn Dodgers left for Los Angeles, he joined his wife as a Yankees fan, and always shared fond memories of attending Yankees games with his family. There was a hockey rivalry in their home too; Joe's daughter Kathie was a fan of the Rangers, and he, the Islanders. Joe eventually switched allegiances to the Rangers and was in the stands with his son Chris when the Rangers won the Stanley Cup in 1994.
Joe touched the lives of so many people through his words, music, teaching, prayers, love, and encouragement. He was a great man of faith and spent countless hours reading and studying the Bible, leading studies, preparing messages, and praying for church members, family, and friends. Dad/Uncle Joey loved teaching his daughter, son, nieces, and nephews how to read and count (2+4=6). Joe brought everyone so much joy through his music, especially singing the old standards, and he will be most fondly remembered by the beautiful sound of his accordion.
Joe passed away on December 6, 2022, and is survived by his wife Kathryn, daughter Kathie and son-in-law Brian, son Chris, nieces and nephews Donna (Jim) Devine, Lynn (Frank) Chiappetta, John (Karen) Santangelo, Craig (Tracy) Nehlsen, Keith Nehlsen, grandnieces/nephews, and his "grandkids" Sunshine, Hemi, Snuggles and Max.
Please join us to celebrate Joe's 85 blessed years with his family and friends at Daley Life Celebration Studio, 1518 Kings Hwy, Swedesboro, NJ. There will be two viewings on Thursday, December 15, 2022, from 2-4 p.m. and 7-9 p.m. On Friday, December 16, 2022, there will be a viewing from 10-11 a.m. and the service will begin at 11 a.m. Interment Lake Park Cemetery, Swedesboro. In lieu of flowers, the family would appreciate donations to the Lighthouse Mission (Bellport, NY) in memory of Joe.