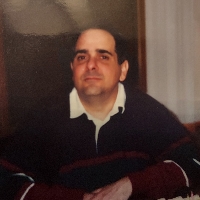 Joseph DiBella
Joseph DiBella
Joseph DiBella went home to be with his Lord on January 19, 2023 after a 43-year battle with MS. He was also a 35-year cancer survivor. Joe was a farmer, and a life-long resident of Woolwich Township. When he was able, he loved working in the fields, hunting, playing the guitar, singing and spending time with his family. He enjoyed watching old western shows, the news/weather, his Sunday sermons and a good football game. Joe was very sentimental and loved talking about the good ole days. He was liked by many as he tried to make others feel important and encouraged them with his great charisma. Joe also liked to rhyme at times and shared many old italian sayings and proverbs. Joe graduated from Kingsway High School in 1965 and often recollected on the good times he had there. He was class treasurer, FFA treasurer, sang in the choir and played in school dances and other events with his band, "The Silvertones." It is also where he met and then married his sweetheart, Josie. He went to Delaware Valley College, but had to return to the farm early to help his elderly father. He was a previous member of Calvary Baptist church, where he was Sunday school superintendent, musician, choir member, and gave special attention to the senior citizens.
Joe was predeceased by his parents, Alfred and Alfina (Tomarchio) DiBella and his sisters Rose (Klenk), Sandy (Agresta) and Faye (Difilippantonio). He is survived by his loving wife, Josephine (Zammarrelli) who cared for him these many years, who he greatly appreciated and his reason for hanging on. He is also survived by his sons Al (Cristy) and Will (Julie), who he was very proud of, and his grandchildren Jake, Kerri, Kylie, Gia and Mae, who he loved dearly.
Funeral services celebrating 75 great years will be private.