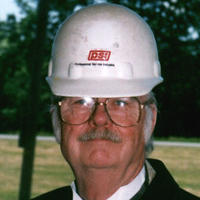 John Ryan
John Ryan
He was a born entertainer. John and his late son, Michael, entertained many patrons in supper clubs and venues throughout Massachusetts and the Philadelphia area. Known as "The Ryans", Michael played the piano and John sang, with younger son, Joe, occasionally accompanying them on drums. Of course, family was always job one: it had to be with 6 kids. He loved a good joke; he was that dad that scared his kids lighting up his face with a flashlight through the living room window. Tough times make tough guys: to help support his family as a teenager he enlisted in the Air Force: stationed in Alaska, he was fondly known as the Singing Sergeant. Shady Lane will now have a higher electric bill: without John they'll have to rely on the radio for entertainment. Over the years he was employed as a quality control inspector with different companies, the last being Pittsburgh Testing Lab. He was formerly of Drexel Hill, Pa. and moved to Woodbury, NJ to live with his daughter, Betty O'Donnell.
Of course service to one's nation sometimes has extra perks. It's there that John would meet the late Modeste Buonanno, also serving in the Air Force. They would share a 55 year marriage and be blessed by 6 children: the late Michael, Elizabeth O'Donnell (Joseph), Joseph, John (Renee), Donna Ryan-Davis (Paul) and Arthur; 4 grandchildren and 1 great-grandchild. He is survived by his sister, Helene Norris.
Come celebrate 86 musical years Wednesday, 8/28, 6-8 p.m. and Thursday, 8/29, 9-10 a.m. at Daley Life Celebration Studio. Mass of Christian Burial will be celebrated Thursday 10:30 a.m. at St. Clare of Assisi Parish, St. Joseph's Church, 130 Broad Street, Swedesboro, NJ. Interment Sts. Peter and Paul Cemetery, Springfield PA. Donations in lieu of flowers to The Residence Fund, Shady Lane Nursing Home, 256 County House Road, Clarksboro 08020 will be appreciated.