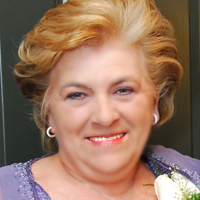 Joann Persiano
Joann Persiano
Home is where the heart is: 
A woman who meant the world to so many, Joann gave her life to her family and loved ones. She was the most beautiful, caring and giving soul. 
All were welcomed with open arms and plenty of food.  In addition to that Joann enjoyed cleaning as her home was always her treasure.  She was witty and provided us with many years of laughter. 
Her heart was made of pure gold. She was a woman who always did her best for you, and loved unconditionally. She lived to spend time with her children, family and spoil her grandchildren. She was a fighter, through her we know what boundless strength looks like.  Her career outside the home also displayed her dedication, spending 35 years working at Pathmark, but she couldn't sit still in retirement and became a school aid showering her love on special needs children.
She'd meet a handsome guy at an Our Lady of Mt. Carmel School Dance, the late Anthony (Mollio).  They were blessed by 4 children: Debra (Arturo) Persiano-Moreno, Jeanette Persiano-DeAngelo, Kimberly Persiano-Marroni, Anthony Persiano and extended family member who she considered her son Michael (Laura) Gingrich and later by 9 grandchildren, Nicholl (Michael) Persiano-Salamone, Arturo Moreno III, Joseph DeAngelo III, Carlo DeAngelo, Francesca Venice-Marroni, Michael Gingrich Jr, Lexy Gingrich, Aubrey Gingrich and Lucas Gingrich; and 2 great-grandchildren, Rocco Salamone and Annabella Salamone.  And she is survived by her sister Alberta (Joseph) Zappy-Wolf and she was pre-deceased by her brother, Anthony J. Zappaunbulso and parents Joseph A. and Venice A. (Caprice)Zappy.
Mass of Christian Burial will be celebrated Friday July 10th at 11:00 am at St. Michaels Church, Gibbstown, NJ. Burial to follow at St. Mary's Cemetery, Bellmawr, NJ.