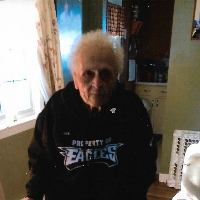 Jeanne Kelly
Jeanne Kelly
She raised six kids on her own; Jeanne may have been a little strict, but who could blame her. If you got into trouble, you'd most likely find yourself under house arrest for a week or two. And she always liked to keep a watchful eye on them: when Jeff kept wandering so she attached him to a leash. The kids did chores at the house, all had some sort of a job and paid her room and board. It taught them the value of a dollar. A lot of work on her part, but it produced quality kids. She kept food on the table working as a seamstress at Marilyn Dress Company and cleaned at the Old Swedes. And she did alterations on the side. But she was hardly all work and no play, especially if her sister, Blanche was around. They were known to hoist a few beers and attended more than their fair share of parties.
She is survived by her children, Jean (Steve) Spithaler, Patricia (Marty) Spithaler, David, Jeff (Peggy), and Robin (Bob) Gardiner; grandchildren, Nathan Kelly, Susan Stepp, Stephen Spithaler, Kelli Gandy, Hope Spithaler, Valerie Conroy, and Crissy Kelly; thirteen grandchildren; and her dear friends, Susie Rankin and Steven Fauntleroy. She was pre-deceased by a son, Howard "Hoppy".
Come celebrate 93 great years Saturday 10-11 a.m. at Daley Life Celebration Studio where there will be an 11 a.m. service. Interment Lake Park Cemetery. Donations to Lighthouse Hospice, 200 Lake Drive, Suite 205, Cherry Hill NJ 08002 will be appreciated.