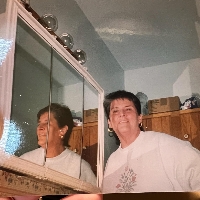 Jean Spithaler
Jean Spithaler
Jean was a Swedesboro gal through and through. She knew everybody from today as well as back in the old days and could tell you who had lived in every house. Jean kept a watchful eye on the town from her porches over the years and knew all the gossip. She was the neighborhood mom who had babysat or raised half of the area. She'd worked just about everywhere: the school cafeteria, as a crossing guard, as a beautician, and for the dress factory. Her hands were always in motion, either acting as seamstress and tailor for her family or producing a bevy of crafts. She was a wiz in the kitchen: she made a mean broccoli salad, tater tot and hamburger casserole, cinnamon buns, pound cake and lasagna. She was an Irish girl who could cook Italian with the best of them. The secret may have been the basil and rosemary that came from her garden; she'd take her cane and chair over to her garden to make sure they were growing to her liking. And she was probably at her best during the holidays; she cooked the whole meal with all the dressings regardless of how many people were coming. If her T.V was on she'd be checking out a little Rachel Ray, watching game shows or getting some more ideas for her home on HGTV. Jean was a 1969 graduate of Kingsway; the first class that had gone all the way through the school.
She'd meet a handsome guy named Steve and share a 51-year marriage blessed by children, Kelli Gandy (Alan), and Stephen Jr (Lori); and later by grandchildren Kaitlyn, Zachary, Tyler, Jason and Alexandra. She was the sister of the late Patricia Spithaler (Marty), David Kelly, Jeff Kelly (Peggi), the late Howard Kelly, Robin Gardiner (Bob), and the late Mark (Alivia Strawn).
Come celebrate 71 great years Sunday 2-4 p.m. at Daley Life Celebration Studio, Swedesboro where there will be a 4 p.m. service. In lieu of flowers donations to National Multiple Sclerosis Society (nationalmssociety.org) will be appreciated.