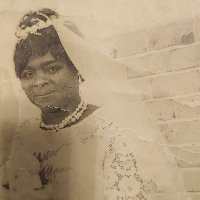 Jean Cleopatra Hurst
Jean Cleopatra Hurst
Jean Cleopatra Hurst, nee Smith -was born on August 13, 1938 in St. Thomas Jamaica. An ambitious woman of faith with a fierce entrepreneurial spirit, she moved to the city to marry, start a family and establish several businesses including bus services, a clothing brand and a garment factory.
She answered the call and became a proud Soldier of Christ when recruited over four decades ago. As an avid and knowledgeable teacher of the scripture, she often led worship, Sunday school, Bible Study and Street Meetings in various communities throughout the island. She was ordained as an Evangelist by her home church, Rehoboth Pentecostal Church in Independence City, Jamaica. Her fiery, thought provoking and moving sermons were legendary and resulted in numerous people deciding to accept Jesus into their lives.
Generosity came naturally to her, she didn't think twice about helping anyone in need in any way possible, and over the years many people benefitted from her altruism. As a Christian who loved and was devoted to her savior Jesus Christ, she also took great pride in doing His work.
Family was very important to her, and she loved and cared for them deeply.
As an excellent cook, she always prepared more than her family could possibly eat, knowing that anyone who happened to be visiting at the time or drop by unexpectedly could also partake and even take some food home to share with others. Everyone had an open invitation to her table and seeing that they were abundantly fed made her happy.
Jean moved to Philadelphia for more access and opportunities for herself and her daughter. Education was extremely important to her and she would beam with pride at her children's academic achievements.
She was steadfast in her faith throughout her entire life and became the living embodiment of strength of resilience. She went home to be with The Lord on March 26, 2022. She leaves behind three children (Marsha, Duhane, Deonn), five grandchildren (Gabrielle, Xavier, Kai, Matthew, Azaria) two grandpups (Beanie, Ozzy) and a lasting legacy of faith in God, perseverance and resilience.
Come celebrate 83 great years Sunday April 24, 10-11 a.m. at Daley Life Celebration Studio, Swedesboro where there will be a service at 11 a.m.
My flesh and my heart faileth; but God is the strength of my heart, and my portion forever. -Psalm 73:26
I sing because I'm happy
I sing because I'm free
For His eye, is on the sparrow,
And I know, He watches over me.