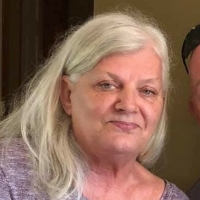 Janice Schlump
Janice Schlump
Through all of life's ups and downs, family and friends knew they could count on Janice; she was a rock. But her best days found her driving down Kings Highway in her fire engine red Chrysler convertible, top down, wind in her hair. For Janice holidays were full of all kinds of traditions: Easter meant making peanut butter and coconut eggs for her extended family; at least 10 for each person but sometimes there'd be rumors that some got more than others. And even though she made hundreds of the candy eggs she found time to make the hard-boiled decorated eggs as well. On Thanksgiving Janice always showed up with her famous cheesecake. Then came Christmas and she gathered the clan together for cookie baking. By the end of the night there'd be equal parts sweets and laughter and, again, there'd controversies about who got what. With Covid Janice made runs to Moods Market fearful that they might run out of cider and donuts.
She frequented the diner in Paulsboro as did a handsome gentleman named Eddie Rieger. Her niece said they should get together; after they did, they were hardly ever apart: teenagers never fell so hard. In addition to her husband, Eddie she is survived by her daughter, Amy Schlump and her brothers, Jay, Jordan, Jeffrey and the late Jack. In addition, Janice is survived by many nieces and nephews.
Services will be private.