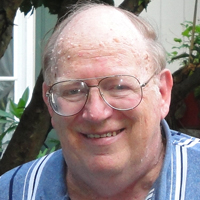 James Osborne
James Osborne
Jim loved auto racing and attended many events from stock car races at Alcyon
Lake to NASCAR races at Daytona. In his spare time he used his talents as a
woodworker creating everything from intricate scroll saw pieces to furniture. Of
course, it was a family affair with his late wife, Ruth, adding the finishing touches.
The two spent many weekends at craft shows selling his creations. In his younger
years he was a Cub Scout leader, Swedesboro Town Council member and Sunday
School teacher. Jim was a dedicated member of Bethesda UMC since the 60's.
He thoroughly enjoyed many weekends at Tall Pines Campground with friends
and family. Earlier years found him using his talents with people as a sales
manager for MannKraft Corporation.
A pastor told a young Jim about a lovely girl, the late Ruth Dunn. Their first date
was to a stock car race; she cheered more than he. Jim knew she was the one.
Their marriage was blessed with two children; James (Judy) and Ross (Amanda)
and later by grandchildren, Karen Dunn (Dan), Jimmy, Ross and Ellis; and 3 great-
grandchildren. He is survived by his brother, Herb (Shirley).
Come celebrate 83 great years Thursday 6-8 p.m. and Friday 10-11 a.m. at Daley
Life Celebration Studio, Swedesboro where there will be an 11 a.m. service.
Interment Eglington cemetery.