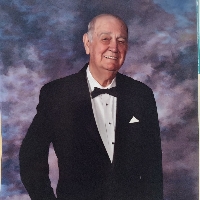 James Orlin Stinnett
James Orlin Stinnett
On Friday, December 16, 2022, James Orlin Stinnett, loving husband and father of four children, passed away at the age of 85.
Jim was born on January 4, 1937 in Morehouse Missouri, to Aldean (Clark) and Orlin Eugene Stinnett. Starting in 1957, he joined the United States Army, 3rd Infantry Regiment (The Old Guard), attaining the rank of Specialist Fourth Class and served until his Honorable Discharge in 1959. Jim received a Bachelor of Science Degree in Accounting from Benjamin Franklin University in 1963. He embarked on a 60 year career holding positions including Branch Manager, Client Services Manager, Marketing Director, Controller, Chief Financial Officer and President. On August 22, 1959, Jim married Grace Mary Mastri and they raised four sons, Sonny, Glen, Sam and Chris. After Grace's death in 1998, Jim met Rose Luscan in 2003 and together they shared a wonderful life for twenty happy years until his recent passing.
Jim's life was a life of service, service to his family, service to his community, service to the organizations of which he was a member and service to his country.
Jim always made time in his life to support his family's interests and wellbeing. He worked hard, developing two distinct successful careers, and the needs of his family never went unmet. Despite sometimes long working hours, he never missed a son's game, never missed a family gathering, never was unavailable for advice and counselling.
Jim's time at St. Christopher's Hospital in Philadelphia, PA let him see firsthand the needs of the community that his workplace served and gave him a deep appreciation for the impact that charitable works can have. He committed his time, skill and energy to the betterment of the conditions of the people he saw in need, including as President of the Lighthouse Community Center. Jim encouraged his family to also participate in his service work. His good example was invariably impossible not to follow and he was always joined on Christmas mornings at the Arch Street United Methodist Church to serve Christmas morning breakfast to the homeless of the community. Jim also volunteered at the Grace Café on Sunday mornings.
Jim was always proud of his military service to our country and placed great value on military service. He was always appreciative of those who have served and who actively serve. He spoke at times about the military service of other family members, and how some of them heroically gave their last full measure of devotion to our country.
Jim lived his life fully, without fear. Following his retirement he learned ballroom dancing and sailed around the world twice as a Cruise Line Gentleman Host. His dancing prowess and his southern gentlemanly charm served him well not only in his role as a Gentleman Host but also in capturing the heart of the woman who would become his wife, Rose Luscan, whom he met at the Stardust Ballroom in Pennsauken, NJ. Jim and Rose shared many adventures together. They cruised the seas, shot pool, played bridge, golfed, participated in the New Jersey Senior Olympics and walked many miles in their hometown.
In the end, it can be said with absolute confidence that Jim was a good man who lived a good life, and that every life that he touched was better for having his presence in it.
Jim was preceded in death by his first wife Grace, his father Orlin, his mother Aldean, his sister Sandra, his brother Gerald and his son Glen.
He is survived by his wife Rose, sister Geraldine (Bill), his sons, Sonny (Laura), Sam and Chris, his step-children Chrissy Fuchs (Dave), Dave Luscan (Leighann), eight grandchildren and many nieces, nephews and extended family.
Come celebrate 85 great years on Thursday, December 22, at the Daley Life Celebration Studio, 1518 Kings Highway, Swedesboro, NJ. Visitation from 5 pm to 6 pm followed by Military Honors and remembrances. In lieu of flowers donations to Arch Street United Methodist Church (archstreetumc.org) or a charity of your choice will be appreciated.