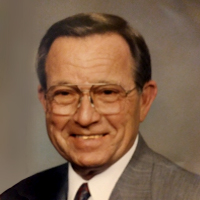 Irving L. Sharp
Irving L. Sharp
Irving L. Sharp, of Mickleton, formerly of Swedesboro passed away at his home, with his family by his side, on March 19.  He was born to Leslie and Gladys Sharp in Swedesboro.  Irv became an Eagle Scout in his youth and played Little League with the Pieltowners.  He graduated from Swedesboro High School in 1951.  He was one of the greatest athletes to come from our area.  After graduation he went on to play pro baseball for the Southwestern League in Clovis, New Mexico where he excelled at second base.  His high school prowess earned him a spot in the South Jersey Hall of Fame in 2003.  In his later years he loved playing golf, bowling and on was on a senior softball team with the guys.  Drafted into the Army from 1953-1956, he served as a Presidential Honor Guard. 
He was a lifelong member of Bethesda United Methodist Church serving as a Trustee and, with his gift of gab, made everyone feel welcome.  He organized the Bethesda Golf Open for many years.  Irv earned a living as an insurance agent going house to house to collect premiums.  Customers knew he wasn't just interested in a check, he made many a friend along the way.  Swedesboro could not ask for a better citizen.  On his morning walk he would carry a bag and a stick and pick up trash along the way.  Irv's suits were always pressed, shirts starched and shoes polished.  Never a hair out of place and always standing tall.  He spoke with confidence but listened with purpose.  As a dad he was not known as being strict, but his hugs let his daughters know they would always be safe. 
Whether taking a hike in the woods or swimming in the ocean after lifeguard hours, the girls knew Dad had it under control.  Of course, he really found his calling as a grandfather.  His face beamed with pride at the mention of any of his grand or great-grandkids. 
The handsome Irv saw a pretty girl walking down the street.  He'd holler "Hey'.  The young Jean Kerswell made it clear she didn't like being addressed as "Hey."  Irv smiled and talked around her initial response.  They'd share a 63 year marriage blessed by two daughters, Terri Overbey and Carol (Larry) Gardiner; grandchildren, Garrison, Cameron (Kelsie), Benjamin (Abbie), Caitlin and Grant; great grandchildren, Teddy and Sammie and son in law, Doug (Betsy) Overbey.
Immediate family will celebrate his life in a private service due to government restrictions