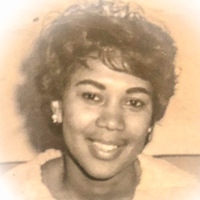 Irene Louise Elam
Irene Louise Elam
Irene Louise Elam aka "Aunt Weezy" aka "the Feisty One"
Irene Elam was born on November 12, 1936 to the late Stephen Henry Andrews, Sr. and the late Leora Stewart. Irene, the youngest of 4 siblings grew up in Ardmore, PA where she was educated in the Philadelphia School System.
Years later Irene was set up on a date with the handsome young man, the late James W. Elam. In the fashion of all great love stories, their first meeting was one for the books. James attempted to pick Irene up for their first date not realizing who he was dealing with. Irene refused to get in his old truck and cancelled. He later returned with a car that was more acceptable and their date proceeded.   Whatever he did certainly worked because they married soon after and were blessed with four children: Tony, Janice, Kathy and Leslie and soon after 3 grand children Jenn, Angela and Karyssa.
As you all know Irene did not miss a Sunday at church. As a matter of fact, in general most of her days were spent there. Irene was an active member at Christ Care Unit Missionary Baptist Church for most of her adult life. Whether she was at choir practice, coordinating a wedding or preparing the church bulletins you better believe Irene was somehow involved. Irene also dedicated her life to childhood education. She had a good time not only teaching children but she also enjoyed teasing them a little bit. I'm sure we have all heard some pretty funny stories about her days in the classroom or after school programs.
Irene had many friends and was a pretty popular lady. Irene loved her family (especially Tony- the golden child) and loved hosting Holidays in her home, she was an amazing cook- I think she passed the cooking gene to Angie only… Eventually her daughter Janice took over the Holiday hosting  which led to many hilarious sleepover parties. I just have one word Dashiki.
Irene enjoyed going to plays in  New York City and many vacations in the Bahamas with her daughter/ traveling partner, Kathy, one year they decided to bring her granddaughter Jenn along on the church cruise. And boy did she make her proud winning that epic beer drinking contest in front of her church crew. Let's just say that was Jenn's last invite.
 Irene also enjoyed spending time with her daughter Leslie and grand daughter Karyssa when they would come to visit from Virginia.
While Irene may have been somewhat blunt at times,  it always brought a smile to everyone's face. Even when she yelled at all 7 great grandchildren Angelina, Mikey, Londyn, Gia, Christian, Carter and Charlie, all they could do was laugh.
Irene had so many great memories with her family and close friends that she held dear to her heart even as her condition declined.
As much as we will miss her, we should be comforted by the thought of knowing Irene has been reunited in heaven with her mother and father, ALL of her siblings and her loving husband one again.
Irene leaves to cherish her loving Children Tony, Janice, Kathy and Leslie Son in laws Rich and Dennis. Daughter in law Donna, 3 grandchildren Jenn, Angie and Karyssa and 7 great grand children Angelina, Mikey, Londyn, Gia, Christian, Carter and Charlie, Nieces, Nephews and extended family and her life long friends. 
Come celebrate 83 great years Friday 9 a.m. to noon at Norton Funeral Home, Williamstown.  Service and Interment private due Corona Virus precautions.  Donations in lieu of flowers to Alzheimer's Association (alz.org) will be appreciated.