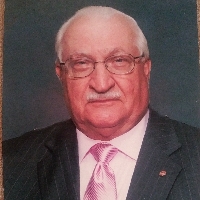 Howard Wayland Packer
Howard Wayland Packer
Half the world knew him as Howard and half knew him as Wayland. But one thing was for certain; Wayland was a perfectionist: jobs that deserved to be done, deserved to be done right. A perfect fit for his career as a draftsman engineer at Dupont in Wilmington. Much of his spare time found him involved in the Masons. He was a driving force at the Clarksboro Masonic Lodge No. 87 where he was the long time treasurer. Though he was known to be careful with Lodge funds (he'd perk right up at the meeting when the talk turned to spending money) he was also adamant that the Lodge act in the best interests of those in need. He wanted the Lodge to care for people. In addition to the Clarksboro Lodge he had held many posts in the region and state. If he was out of the area most likely he'd be heading off to his trailer or boat docked off Fortiscue or out in the woods in Maine doing some deer hunting. Wayland was an Eagles fan all the way and served our nation in the Navy.
One evening he left a lodge event wearing a tuxedo and met a pretty lady named Eva. He'd ask her for her number; she was certain he'd forget it. His lock tight memory paid off and he called her the next day. With Eva he'd not only got a terrific wife for 42 years but also three children: Jackie Panone (Tom), Vincent Barber and Mark Barber (Alice). He was Pop Pop to 5 grandkids and 3 great grandkids. Wayland was hands on: you'd often find him down on the floor with all of them giving them rides on his back or dressed as Santa Claus for the holidays.
Come celebrate 77 great years Thursday 10 a.m. to 11:45 a.m. at the Clarksboro Masonic Lodge, 187 West Cohawkin Road, Clarksboro where there will be a noon service. Interment Gloucester County Veteran's Cemetery, Williamstown.  Donations in lieu of flowers to the Clarksboro Masonic Lodge, P.O. Box 276, Clarksboro 08020 will be appreciated.