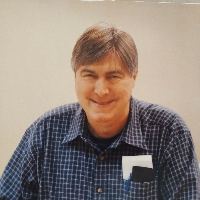 Herman Daniel "Dan" Muehsam, Jr.
Herman Daniel "Dan" Muehsam, Jr.
(January 10, 1951—July 15, 2021)
"True saints, when absent from the body, are present with the LORD" (Jonathan Edwards, October, 1747) Dan was a rock and rallying point for his family. As a Christian, he relied on the LORD to meet his needs and uphold him in difficulties. He served his Lord in many different capacities over the years as a church elder, youth leader, Sunday School teacher, church treasurer, and many informal positions. He loved showing hospitality. He also loved studying his vast array of theological books.
Dan's career started in 1972 at PECO as a systems analyst, and he worked in several positions including payroll and project manager during his 32 years at PECO. He retired young and started a second career path at Crozer Chester Medical Center in IT payroll. He achieved degrees at Penn Morton College (BA in economics), Widener University (MBA) and University of Pennsylvania (MS in Dynamics of Organization)
Dan had a musical side. He was a Beatles fanatic who started out playing drums in his teens with various bands composed of his musically inclined family and friends. Later, he used his talents and became the drummer for his church musical group, Alethia. He also taught himself guitar because he figured no one plays the drums at home by themselves. His mischievous side enjoyed baiting telemarketers with outlandish responses and confusing children by pointing to various objects and saying "apple". With adults, he had a sharp, dry wit.
Dan is survived by his wife of 48 years, Jane McCarthy Muehsam and three children, John (Sarah), Rebekah, and Peter (Erin) and also by his grandchildren Judah, Elijah, Eden, Harper and Henry. He also leaves two brothers, John and David (Monica), niece and nephew Emma and Sam and several cousins.
Come and help us celebrate 70 fruitful years on Saturday, July 24, 2021 at Faith Reformed Baptist Church, 110 State Road, Media, Pennsylvania. Visitation will be from 9AM to 10AM followed by his homegoing service at 10AM. Internment at Mount Hope Cemetery in Aston, Pennsylvania.
In lieu of flowers, the family is requesting that donations be made to Faith Reformed Baptist Church or to Ranch Hope (at-risk adolescent ministry) in Alloway, New Jersey.