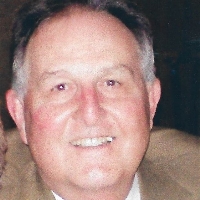 Everett Matteo
Everett Matteo
His whole life he wanted to have a family. A young Everett spied a pretty girl named Elaine Barber in his Swedesboro neighborhood. Word reached her that he was interested in dating. She declined but was later coaxed into it by her brother, Richie. It would lead to a 58-year marriage: lots of give and take but she would be the calming anchor of his existence. And with Elaine he would get so much more than a wife; Everett became part of the Barber clan, the late Richie more of a brother than an in-law, and a lifelong partner in horseshoes. His family would grow with the addition of sons, Tom, Steve and John. As a dad he was more of an adviser offering up knowledge on everything from baseball to marriage to child rearing, but the boys were free to make their own decisions. To support his family, he always worked a couple jobs; the counter at the liquor store, Del Monte and even painting houses to make ends meet. He eventually landed a job working the yard at Wickes Lumber. It wasn't long till they figured out he had a dynamic personality and moved him inside to sell kitchens. Year after year he'd be the number one seller for the entire chain. After some years he sat his family down and told them of his plan to open their own kitchen store in Woodstown. Tom and Steve agreed to come aboard; Elaine would do the books and Matteo Family Kitchens was born. The heart of the home specialists would be a huge success. Contractors and customers knew Everett valued his relationship with them much more than profits; for him it was a source of pride. Likewise with his friendships; he maintained them for life. For 30 years you'd find most of his friends gathered around his card table for "guys' night" laughing and loving each other's company. Everett took great pleasure in taking the boys' money playing poker. He was always amazed how none of the guys would fold and, in turn, would take their easy money. He always dealt the first and last hands of the night. He had a lifelong love of baseball playing in high school and for much of his adult life he coached. He started off in his teens as an umpire and would eventually coach his son's baseball team and later the softball team at Buddy's. A loyal fan of the Phillies, he would try to watch the games but often had to turn it off and just walk away. Sometimes he'd turn it back on a couple of innings later. Everett was strong in his faith and active at Trinity Episcopal Church; a eucharistic minister and served on the vestry.
He is survived by his wife, Elaine; his sons, Tom (Valerie), Steve (Gwen) and John (Jennifer Seltzer) Harmon; grandchildren, Kimberly, Dominic, Lauren, Kristina, Rayna, Jacob and Stephanie; and great grandchildren, Jay, Jaida, Vason, Jordyn, Lucas, John and one on the way; and many nieces and nephews who he treated as if they were if his own.
Come celebrate 79 great years Friday 5-7 p.m. and Saturday 10-11 a.m. at Daley Life Celebration Studio, Swedesboro where there will be an 11 a.m. service. Interment Lake Park Cemetery, Swedesboro.