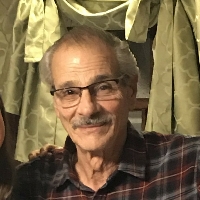 Ellis DeStefano
Ellis DeStefano
He was the quintessential car salesman, though the truth was Ellis wanted your friendship much more than he wanted you to buy the car. His customers knew it; his following was legendary. From the days of his youth he was obsessed with the automobile: a love of heavy Detroit Steel. Though he could sell Fords with the best of them he also had a penchant for fiberglass: his garage featured a pristine 1976 Corvette. He thought life should be lived a quarter mile at a time: a lifelong fan of NHRA drag racing and had raced his 67 Vette at Atco in his younger years. He and his buddy, Charles Mandolia, frequented many a race and did the circuit of corvette shows. Interacting with people was his thing, whether it be sitting poolside with his daughters' friends or playing pranks on those within his reach. In his world nothing was disposable; Ellis was a craftsman who could fix just about everything from a blown engine to a broken heel at a funeral. And he fixed them better than new. And he was a jack of all trades, be it running a chainsaw deep in the woods or laying down fine etching on an antique firearm he was restoring. Ellis had taught metal and wood shop in his earlier years at Deptford High School and even directed the senior play, Helen Keller. He had lots of hustle in him: in his free time, he'd restore and sell antique furniture, maybe for the money but mostly because he couldn't sit still and had a trucking company with his brother Rocco and his friend, Bob. He slept in his recliner with Fox News blaring, was obsessed with his dogs, shot sporting clays at Quinton Sportman's Club and dabbled in photography. He developed film in his kitchen. Some said he was confident in his political ideas: others knew him as stubborn and set in his ways. But one thing was certain: Ellis was a true patriot. He loved our freedom, patriotism and entrepreneurship. A Trump 2020 flag flies in his front yard.
He is survived by his daughters, Rayna (Paul) Biester and Desire DeStefano and his brother, Rocco DeStefano; his grandchildren, Mason Biester, Mikaela Biester, and Madison Biester; his step daughter, Trista Jarvis; and his dogs, Parker and Gizmo and Argyle the cat. Ellis he was pre-deceased by his wife, Sandra, his brother, Ed DeStefano and his grandson, Sean Blancha.
A memorial service celebrating 75 great years will be held soon at Daley Life Celebration Studio, Swedesboro.