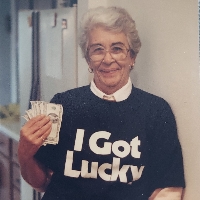 Eleanor Schoener
Eleanor Schoener
Surrounded by her loving family at home, Eleanor passed peacefully on April 15, 2021 at the age of 98. For Eleanor, family always came first. For many years Sundays were a family gathering for pot roast, potatoes and coleslaw. She always thought of ways to keep her family entertained. Once, her husband wanted to get a snowmobile, and she agreed if she could get a pool, making their home the place to be for picnics and parties. She worked as a secretary for a number of Swedesboro businesses, and for twenty years was the face and voice of Kingsway Regional High School. It was Eleanor you would hear making announcements over the P A system, and she was the first to welcome you as you came through the front doors. Perhaps the trick to living to 98 is enjoying a Manhattan every day. It didn't matter when; according to Eleanor, it was always five o'clock somewhere. Eleanor also liked to do a little gambling with her casino buddy, Rosie Vanaman, playing the slots in Atlantic City and Las Vegas. If her T.V was on, she would either be checking in with her friends at General Hospital or cheering on the Phillies: "Hit the ball!!", you'd hear her yell at the screen. Eleanor loved to travel and went many places from Hawaii to the Panama Canal.
At Swedesboro High School she met a handsome guy who was a year ahead of her. She and the late Bill would marry before he shipped off to Europe near the end of WWII. They eventually settled on the family farm in Woolwich Twp where Eleanor resided for 67 years. Bill and Eleanor were blessed with two children: Tom (Carol) and Merilyn Casella; a granddaughter, Debra (Greg) Price and a great grandson, Josh Price.
Eleanor's celebration of life service will be private as per her wishes under the direction of Daley Life Celebration Studio. In lieu of flowers donations can be made to Bayada at Inspira Hospice, 603 North Broad Street, Suite 301 Woodbury, 08096 or Visiting Angels of Gloucester County, 397 Bridgeton Pike, Mantua 08051.