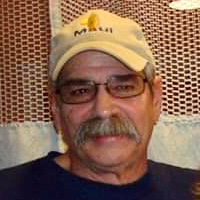 Edward A. DeStefano
Edward A. DeStefano
Edward A. DeStefano, loving husband, father, and grandfather, man of many talents and interests, and family man left this world in his home on June 7, 2020 with his wife and children at his side.
Ed was born on May 18, 1953 to Rocco and Betty DeStefano (Interrante) in Woodbury, New Jersey.  He is survived by his wife Kathleen DeStefano (Quigley), his children Edward DeStefano Jr (Cait) and Lisa Roselli (Rich), his four grandchildren, Nicholas and Collin DeStefano and Emma and Katelin Roselli, his brothers Ellis and Rocky, and his best friend, brother-in-law, and adopted brother Bob Quigley.     
If you asked a hundred people who Ed DeStefano was you would most likely get a hundred different answers. Rough on the outside and a giant softy on the inside; he wore many hats. To his wife of 47 years he was an attentive, caring, and loving companion, giving all of himself and asking for nothing in return. To his son he was a superhero, teaching and leading him to become the man he has become and instilling the love of family and hands on work that allows him to carry on his legacy.  To his daughter he was her world, her hero, and the wind beneath her wings and until the day he died he kept the same adoration for her that he had the day she was born.  To his grandchildren he was the greatest Pop-pop to ever live with an innate ability to read their minds and create anything that their imagination could think up, from toy airplanes and trains, to hope chests and play cottages, but more importantly he was always there to give hugs and love.  To his family and friends he was a loyal wildcard that always left them waiting for, or cringing at, the next funny memory.    
Living his entire life on his family's farm in Woolwich Township, he developed the wide range of skills and knowledge that led him to be an incredibly talented carpenter, mechanic, and craftsman.  There was nothing that you could think up that he could not create.  Ed had many hobbies and careers over the years from painting cars and turning wrenches, to hauling freight, owning service stations, teaching, boating, drag racing, and restoring antiques.  Nothing gave him a greater sense of satisfaction than using his skills in carpentry and finish work while running Destefano Enterprises.  His business had many forms but none was more important than when he worked with his son and stepfather Charlie Ubaldi to establish the final chapter of his work life.  Every day was filled with father and son bonding and laughs, a job that was the quintessential perfect workplace.  As he was forced to retire due to health issues, he began to work on custom cabinetry and furniture projects for his family and returned to one of his greatest passions, restoring his Corvette in the years preceding his death.  All though he was a Ford man through and through, he always had a special place in his heart for a Corvette.
Ed's greatest joy was being a grandfather.  That tough exterior would immediately melt away when his grandchildren were around.  He carried on his superhero persona and amplified it to give all that he had to make them as happy as he could.  He cherished the role of Pop-pop and from the day his first grandchild was born he wanted nothing more than to see them and love them.   His loss leaves a giant hole in their world that can never be replaced. 
In lieu of flowers the family asks that you make donations in Memory of Ed DeStefano to Give Kids the World, 210 S. Bass Road, Kissimme, FL 34746.  (Please make sure to include your address so that Give Kids the World can acknowledge your donation.)
Come Celebrate 67 great years Friday 10 to noon at Daley Life Celebration Studio in Swedesboro. Followed by burial at Lake Park Cemetery, Woolwich Township