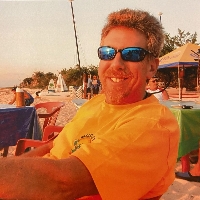 David (Dave) Bauer
David (Dave) Bauer
David (Dave) Bauer, 62, Hatboro, PA, was a man of contradictions. He was a type A, free spirit who was always looking for adventure but made sure everything had its place. He loved the sky and the ocean, as a certified scuba diver and almost pilot. He was as comfortable at a country club as he was at a tattoo parlor—making friends wherever he went.
Everyone could sense his good nature, especially animals. Dave made friends with grumpy cats, high-maintenance cockatiels, loving dogs, and even fickle chickens, with each one of his flock having a name. Even fish could sense his good nature—making him one lucky fisherman. From sailfish in the Bahamas to tarpon in Florida to flounder in New Jersey to salmon in Alaska, Dave was an avid fisherman who was always happiest on a boat with a rod in hand.
He was a whiz in the kitchen tackling prime rib in the rotisserie–set it and forget it–and baking amazing peanut butter cookies. He spent afternoons with Pop learning the secret family fudge recipe to carry on the Haney Christmas tradition.
A Navy brat born on base in Waukegan, Illinois, David kept his parents John Bauer (deceased) and Mary (Haney) Bauer and his sister Donna Bauer (deceased) on their toes with his mischief.
He found a career in construction and then in trucking. With the latter taking him across the country visiting all 48 contiguous states, where he always made the time to ride his bike and explore the great cities of America—sending wooden postcards from each back home to his daughter Michelle Bauer.
Dave was a bit of a hopeless romantic, lucky in love three times and unlucky three times too so he decided to give up on the whole marriage thing. He was a beloved friend —with concert buddies, pool hall buddies, work buddies, and fishing buddies. Dave was surrounded by lifelong friends, for whom he would do anything if asked.
David is survived by his daughter, Michelle Bauer, who is "more than he could have ever hoped for." He is also survived by his mother Mary Bauer and his aunt Carol Sandridge, who will greatly miss his dinner outings and trips to the grocery store.
Please join his family and friends in celebrating his life on Wednesday, October 20, 2021 at 11:30 am at The Buck Hotel.
Please send memories and condolences to lifecstudio@gmail.com