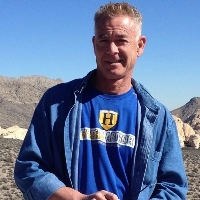 Daniel J. O'Connor
Daniel J. O'Connor
He lived a life of adventure and creativity, usually mixing the two. Daniel's mind was always in motion: as a young boy he built a two-story fort in his backyard with a Batman escape pole. He rode his bicycle to delivery newspapers in his hometown Belford. His youthful adventures led him to a lifetime of entrepreneurial endeavors. During his bodybuilding years, he did a little modeling, personal training and opened a gym in England. But he would really make his mark in construction, eventually having his own company, Hydro Armor Systems, waterproofing basements and fixing foundations. It was more about people then profits: If you needed a job he'd give you a chance. He had a HydroArmor YouTube channel with so many colorful educational marketing videos that showcased his over 40 years of expertise to teach his potential and existing clients and customers. Dan certainly liked his toys: Camaro, Vette, trucks, and motorcycles. His biggest hobby, though, may have been planes, just for the joy of pulling back on the yoke and soaring into the clouds – he loved the freedom that flying gave him. As a father, he certainly taught his daughter to enjoy the fun parts of life and how to be a kid at heart. This continued when the grandkids came along and he fell into his role as spoiler-in-chief. He published poetry, wrote screenplays, and learned to play piano on his own, built a waterfall in his backyard and once designed and built a house at the shore with perfect unobstructed views.
He was protective of the women in his life: his mother, Elisabeth Casey; his daughter, Michelle Katnani (Husam); his sisters, Diane O'Connor (Joyce Winter), Elizabeth "Bonnie" Ferrari, Patricia Tartaglia (Daniel) and Lynne Bussott (Doug) and his former wife, Maryse Merciera.  He is survived by his grandchildren, Zayd and Aya Katnani and his cherished hydro-dog, Quinn. He was pre-deceased by his father, Thomas and his beloved cat, Burt.
Come celebrate 64 years of adventure Friday 5-6:30 p.m. and Saturday 10-11 a.m.at Daley Life Celebration Studio, Swedesboro. Tell a great story about him at the Friday Storytime service starting at 6:30 p.m. Mass of Christian Burial will be celebrated Saturday 11:30 a.m. at St. Clare of Assisi Church (St. Joseph's Site), Swedesboro. Donations to Gloucester County Animal Shelter, (gloucestercountynj.gov/160/Animal-Shelter) or the shelter of your choice will be appreciated.