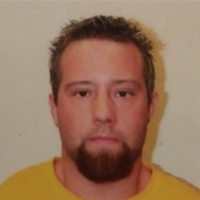 Christopher Wilson
Christopher Wilson
He was a fearless, consummate showman.  In his youth, Chris wrestled in his backyard.  Flips off a roof, onto a trampoline and over a fence would become a neighborhood event.  They even sold popcorn and hot dogs.  He'd graduate up to the big leagues, wrestling under the name Justice Pain and becoming a champion in CZW and wrestled as far away as Japan.  Of course, later in life he traded his obsession with wrestling with that of being a dad: devoted to daughters, Audrey and Ava.  Quieter times found him working as a journeyman with the iron workers union.
He is survived by his grandparents, Margaret and Earl Stauffer; his brother, Nick Wilson; his aunt, Karen Duaime (Dave); his uncle, Mike Stauffer (Rose); cousins, Anthony and Michael Stauffer and Joshua Duaime.
Come celebrate 42 great years Sunday March 8, 5 to 7 p.m. at the National Park Fire Department Banquet Hall, 523 Hessian Ave, National Park, where there will be a 7 p.m. service.