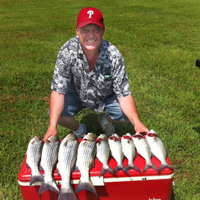 Carl Michael Griffin
Carl Michael Griffin
He was the guy everybody loved, mostly because he never lost his boyish ways.  Griff never had millions, but whatever he did have you'd be welcome to if you needed it; generous to a fault.  
As a handyman, no one turned a better wrench.  Though he never had any children he made up for it with his nephew and niece. Jordan got lots of life tips from him (though he was probably a little too young to be getting them) and Alisha was the only one to call him Carl (technically Uncle Carl, but it was his legal name.)  
He cheered for theEagles (or shouted at them) and was in attendance for the Philly Special.  Mike may have placed a wager from time to time, but it probably dated back to his days as a dealer at theShowboat. He was an employee of the The Phoenix in Phila and adored both his co-workers and residents. 
Mike is survived by his mother, Joan; his sisters, Laurie Greenstein (Barry), Jeannine Gelernt, Nephew, Jordan Gelernt, and niece, Alisha Greenstein and was pre-deceased by his father, Frank, brother Frankie and life partner, Marge Harmon. Also survived by many loving Uncles, Aunts and cousins. He is also survived by his beloved cat, Slate.
Come celebrate 53 great years Sunday 6-8 p.m. and Monday 10-11 a.m. at Daley LifeCelebration, Swedesboro where there will be an 11 a.m. service.  Interment Eglington Cemetery, Clarksboro. In lieu of flowers, donations can me made to: Make a Wish New Jersey, 1384 Perrineville Road, Monroe Township, NJ 08831