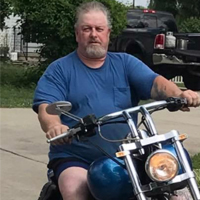 Carl F. Ogborne, III
Carl F. Ogborne, III
Carl F. Ogborne, III, 60 of Logan Township, NJ passed away Sunday, May 3, 2020 unexpectedly at home. Carl was born to Carl F. Ogborne Jr. and Judith G. Ogborne in Delaware County, PA on September 30, 1959.
Carl was a loving husband and father with a warm personality, kind heart and beautiful smile. Carl had a passion for driving big rigs and Harley Davison Motorcycles.  He loved spending time with his wife Barbara and their blended family at home, where they created a loving home and supported all their children.
Carl's passion for driving big rigs started when he was just a kid.   His mother, Judy, took her kids out on recycling nights in her station wagon to pick up newspapers left curbside. When Carl was old enough to drive the family trash truck his no worry attitude gave him calm hands in tight situations to maneuver big rigs down narrow streets, alleys, highways and byways.  This was the start of the family business where Carl worked side by side with his father and brother at "Ogborne Waste Removal Inc."  Eventually Carl opened his own recycling business.   Carl loved taking his two grandsons Michael and Chase to work with him. He would wake them up at 3 in the morning and referred to them as his "Road Dogs".
Carl lived life by "four wheels move the body; two wheels move the soul". When riding his Harley Carl was a free spirit out on the open road with wind in his face.  Carl and his wife Barbara often took to the road for adventurous trips and made a lifetime of memories.    
Carl was a cook and a handy man. It could be as simple as taking some breadcrumbs, melting some butter and pouring over pasta or pancake jelly taco's and dinner was served.  If something needed to be fixed, he was the go-to guy. Of course, necessity being the mother of all invention, if the right tool wasn't handy, he used whatever was available. (i.e. the broken arm of glasses as a screwdriver or a wet towel in a zip lock bag heated in the microwave as a heating pad).  Carl always had the solution.
Carl met Barbara, the love of his life, in 7th grade. During High School, he often joked he would marry her. But they both chose different paths and over the years their friendship continued.  Years later, they married on August 28, 2004, and they became a blended family.  They created many fond memories over the years, celebrating birthdays, holidays, weddings, births of grandchildren and life's special events. Carl was a loving husband, father, stepfather, son, brother and friend.  He will be greatly missed by all.
Carl is survived by his wife Barbara, and his and her children: Emily (Nicholas)Davis, Carl Ogborne IV, Nadine (Kevin) Conkey, James Hardy,  Walter Hardy,  Alisha Hardy, Patrick Hardy, Sara Jones, Jessica Spisak, 11 grandchildren, 2 great grandchildren, his Mother, Judith Ogborne, brother Steven (Jacqueline) Ogborne and sister Judy (Scott) Jenkins and 5 nieces.
Services celebrating 60 great years will be held when restrictions are lifted.