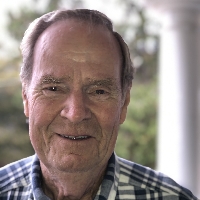 Bruce Stanley Edwards
Bruce Stanley Edwards
How do you begin to describe a man who touched so many people throughout his life? A man who was born the day before Pearl Harbor, Dec 6, 1941. From that day, he was faced with many adversities. His father passed away when he was only two years old. His mother was left to raise five children in an already difficult era. His extended family helped to raise him while he lived throughout the South Jersey area. Despite his struggles, he was able to graduate from Pitman High school in 1960. After High school, Bruce enlisted in the United States Air Force and served our country honorably in Germany until his discharge in 1964. After his enlistment, he returned home to Sewell, NJ and married his beloved wife, the late Joan Frances Scherle. Together they raised four children, Donald (Nancy), Jeanine (Rich), Scott (Andrea) and Chris (Amy). They made their home in Swedesboro, NJ. Bruce devoted his life to his family and friends who affectionately referred to him as "Hank". He was blessed with nine grandchildren Jennifer, Jamie, Kimberly, Lauren, Ryan, Sarah, Rachel, Landon, Taylor and three great grandchildren Jay, Jaida and Jordyn. Bruce was a hardworking man who worked as a chemical operator at DuPont Chambers Works, in Deepwater Point, NJ for 25 years until his retirement. After his retirement, he moved to Milford, Delaware where he lived for over 20 years. Bruce was a regular everywhere he went and a friend to everyone, whether while walking through his favorite stores or eating at one of the local diners. Those he met easily became part of his extended family. In his final years, he resided in Pennsville, NJ with his daughter, Jeanine. Bruce will eternally be remembered as a patient, gentle, kind-hearted, fun-loving, and caring man who was so thoughtful and never forgot anyone. He was beloved and found the most enjoyment in spending his time with those who called him brother, husband, dad, uncle, pop-pop and friend.
Bruce passed peacefully to be with the Lord on March 4, 2021 with his children by his side. Bruce is predeceased by his loving wife of 20 years Joan Frances and his long-time companion Anne. He is survived by his sister, Alma Jackson.
Come celebrate 79 great years Friday March 12, 9-11 a.m. at Daley Life Celebration Studio, Swedesboro where there will be an 11 a.m. service. Interment Eglington Cemetery.