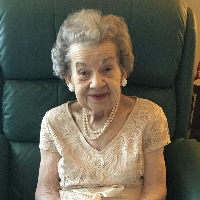 Betty E. Davidson
Betty E. Davidson
6/1/31-12/15/21
She Peacefully passed away at Cardinal Village, Sewell,NJ.
Born and raised in Swedesboro,NJ. Spent most of her adult life
In Pitman,NJ and upon retirement moved to Port St Lucie , Fl
with her husband of 57 years, Ralph R Davidson until his death in
2013.She is survived by 3 daughters, Margie Sammons(Bob), Edna Hawk,
Betty Zubert(Jim), 11 grandchildren, 17 great-grandchildren, and a brother,
John Monahan(Joyce) from Pitman, NJ.
She loved having fun and everyone enjoyed being with her. She will
be greatly missed by all who knew her.
There will be a gravesite ceremony at Hill Crest Park at a later date.
Donations may be sent to Alzheimer's Association in her name.