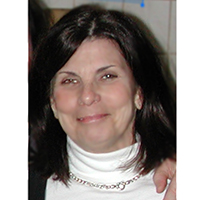 Bernice Murray
Bernice Murray
Never shy about sharing her opinion, or her Sandra Bullock-like smile, Bernice loved to spend time with the family that her and her late husband Patrick created.
Bernice crafted a personal relationship with all of her kids and grandkids; she listened carefully and lovingly, making each child feel like they were special. Of course, mess with any of them and she'd surely display mama bear like claws: a neighbor once was disrespectful toward Patrick,Jr. and received a signed death threat. She was into fitness and health before it was a thing. Her goal was to be on the cover of Shape Magazine. She taught aerobics for some time and she "may" have invented the protein shake . . . although she couldn't quite figure out how to make her kids drink them down.
Punctuality was never her thing; tell her to be there at 11 if you needed her there by 2, Even then, she may come waltzing in at 2:30. Behind the stove she was a master of comfort food: the best mac and cheese, lasagna, spaghetti & meatballs, and chicken noodle soup. She always had the latest and greatest tech gadgets and was the only person ever known to not have 12:00 flashing on her VCR.
In the 50s, she danced on American Bandstand in West Philadelphia where she was born and raised. Her later years found her living in Glen Mills, PA but her happiest days were in San Diego living in a sunny villa she called Sugar Mountain. She loved the music from the 70's (Carly Simon, James Taylor and Bob Seger), celebrity magazines (Star, Inquirer) and L.L. Bean (she even had a LL Bean car).
In 8th grade Bernice met her future husband, the late Patrick, Sr. Their marriage was blessed with 5 children: Mary Lou Gere (Gerald), the late Kathleen Gere, Patrick, Jr, Michael (Karen) and John (Kelly); 12 grandchildren; and 14 great-grandchildren. Bernice is also survived by her brother, John Regler, Jr., her nephew, Jake Regler, and step-mother, Anne Regler, along with many other loving relatives.
Most of all Bernice dedicated her life to her son Patrick, Jr., who needed special attention. She very rarely left his side and loved him every waking moment and with everything she had, until the day she passed.
Come celebrate 87 great years (although Bernice would tell you it was 86) Thursday 2/9 from 6-8 p.m. at Daley Life Celebration Studio, Swedesboro where there will be a Tea Party and Story time service at 8. Mass of Christian Burial will be celebrated Friday 2/10 10 a.m. at St. Thomas the Apostle Church, 430 Valleybrook Road, Glen Mills, PA where friends may call from 9:15 a.m.  Interment, St. Thomas the Apostle Cemetery following Mass.
In lieu of flowers Please donate to the Pennsylvania Association for the Blind.