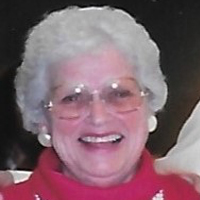 Audrey Bundens
Audrey Bundens
Audrey was meant to be a mother, grandmother and great grandmother.  When the kids left Audrey's house, they left with two kisses:  one from her lips and a Hershey Kiss in their hands.  If there was a bus heading to the casinos, you can be sure she was on it.  She played the slots from here to Las Vegas.  She loved a little fun in the sun.  The first two weeks of July always found her in Ocean City, NJ and then she escaped the winter with the help of cruising on Royal Caribbean.
Everyone knew that family and friends came first.  Audrey took classes to lean how to use her computer, and when she started to lose her hearing, she used it to keep in touch.  Her card table was always set up for jigsaw puzzles and every puzzle featured a cardinal.
A handsome guy, the late Lawrence, was marching in a Swedesboro Parade.  The beautiful Audrey Hurff was watching the parade, but he was watching her.  They dated through high school and married shortly after.  Lawrence always grew a bountiful garden and she would can or freeze the vegetables.  In addition to vegetables, they raised 4 daughters:
JoAnne Penza, Patricia Pappas (James), Susan Costill (Kirby) and Janet DeVault.   They were blessed with 14 grandchildren and 21 great grandchildren.  She was the sister of the late Joseph Hurff.
Come celebrate 89 great years on Sunday, Nov 10th from 2-3 pm at Daley Life Celebration Studio, Swedesboro where there will be a 3 pm service.