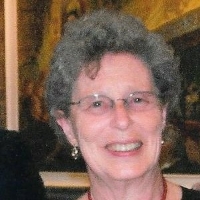 Arlene Storer
Arlene Storer
Arlene was a humanitarian to her core, a Quaker and pacifist who believed
strongly in social justice and advocated for the rights of the disenfranchised,
minorities and counseled women and children in need. She developed a deep
faith in God as a young girl which instilled in her a set of morals and values she
followed for the rest of her life. A history major at Oberlin College, she began her
lifelong interest in travel where she could explore other peoples and countries.
Through her twenties she experienced more of the world than most will in their
lifetime. Immediately after college, she worked as a cryptographer for the
National Security Agency at Fort Meade. She then had the opportunity to camp
across the U.S. with two college friends and lived in Haight-Ashbury in San
Francisco for a year.  Shortly after she grew restless and traveled across the sea,
seeing much of the world and ultimately teaching at an American School in
Beirut.  She traveled extensively throughout the middle east and Europe during
her time abroad. Even in retirement, she continued to explore the world with her
husband Bob: China, Egypt, Thailand, and Greece were all places they visited
eagerly. Her search for adventure never ceased, spending a month in India in her
80's and zip lining above the rainforest of Costa Rica. If she wasn't exploring the
world, she was learning about it: she was a voracious reader, a love she sought to
instill in her two grandchildren, Caroline and Jeremy.  If not reading to them she'd
be taking them to museums or on nature walks, enjoying Broadway shows or
classical music concerts to introduce them to the arts and culture she so enjoyed
herself.  She valued education highly: Arlene earned two Masters, one from
Columbia, and taught high school History for several years.  She worked as a
guidance counselor in Carmel, New York for many years, where she helped her
students navigate high school and strive toward a college degree. She took
several students into her home when necessary to make sure they were fed and
housed and loved.  Always on the go once she and Bob retired to West Deptford,
New Jersey, she volunteered at SODAT for many years and attended Meeting at
Mickleton Friends for over 20 years. And even at the Friend's Home in
Woodstown where she lived for the last year and a half of her life she stayed busy
and social, available for any day trip to Philadelphia or to explore historical sights
around South Jersey. She was also a talented and active member of the Bocce
Team.  In May 2007 the volunteer Center of Gloucester County awarded Arlene
with The President's Call To Service Award recognizing her commitment to all the
volunteer work she had done over the years.
Arlene met a handsome guy on a blind date.  Their first date was bowling:  Arlene
won.  Shortly after she and the late Robert T. Storer wed and settled in New York.
Two children came along shortly after: Amy (Ted) and Ken. Arlene and Bob were
later blessed with two grandchildren: Caroline and Jeremy.  Her decision to retire
to South Jersey afforded her ongoing opportunities to enjoy watching her
grandchildren grow up. She is survived by her brothers, Barry and Alan (Elaine).
Come celebrate 85 great years on Friday, August 28 th, 3 p.m. at a graveside service at
Friend's Meeting Cemetery, Kings Highway, Mickleton.  There will be a reception immediately following.  Donations in lieu of
flowers to Mickleton Monthly Meeting c/o Treasurer Chester Luszcz, 429 White
Horse Pike, Haddon Heights, NJ 08035 or to the Food Bank of South Jersey, 1501
John Tipton Blvd., Pennsauken, NJ 08110 donate.foodbanksj.org will be greatly
appreciated.