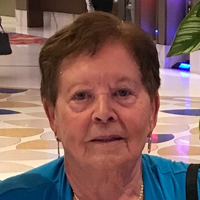 Annina Raimondo
Annina Raimondo
Anna was born in Italy and came to America with her two young daughters to join her husband Gelsomino. They settled in Newark, NJ and were blessed with 2 two sons. Anna retired from Hartz's Mountain at the age of 76 and settled in Manahawkin, NJ. The typical Italian mother and grandmother, you could always find her in the kitchen cooking and baking. She enjoyed the outdoors and sitting on her porch swing greeting friends and neighbors. She loved growing her vegetable garden and flowers, playing bingo, and taking trips to the casino. 
But, her greatest joy was being surrounded by her family and making sure they were well fed.
She was the wife of the late Gelsomino and mother of Teresa Dougherty (Fred), Rosa Sanclaria, (Peter), Orlando Raimondo (Victoria), Antonio Raimondo (Tina), grandmother of : The late Lawrence Leeds, Christina Dougherty, Cynthia McNally, Lisa Lopes, Antonio  Raimondo, the late Albert(AJ) Plasket, Christopher and Dimitri Lodin, Leah and Dana Raimondo and great grandchildren, Annina, Emily, Frankie, Rocky, Jade, Ploy, Ace, Bella, and Madeline.  She is survived by many relatives in Italy. 
Come celebrate 89 great years Sunday, July 12 from 3 to 6p.m. at Daley Life Celebration Studio, Swedesboro . Mass of Christian Burial will be 10a.m. Monday, July 13 at Incarnation Church, Mantua where people will meet at 9:30 a.m. Burial Holy Cross Cemetery, North Arlington, NJ