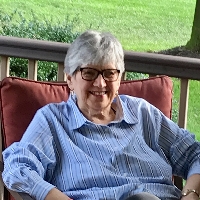 Ann Otten
Ann Otten
Where to start… Her family, community and multiple civic groups relied on her "tell it like it is", "no-nonsense" leadership; she was a force of nature. When Ann was involved, everyone deferred. She was Repaupo through and through, living in the same home her entire life and graduating from St. James in 1963. Age 18 found her with her first job working as a messenger clerk at Mobil Research in Paulsboro. A year later she started a career in the Print Shop, first as a Collator and Binder and later she advanced to Supervisor. She'd retire from the Print Shop and Mobil Research a brief 36 years later, but she stayed loyal to the Red Horsemen, serving as its' president and organizing many of their events over the years. Her friendships lasted a lifetime; she still got together with the MobilGals and VIPs on a regular basis. She served for 29 years on the Logan Twp School Board, serving as its president for 15 years. And, yes, her love of community was strong but her love of family even stronger and never more on display than on vacation: Garrison Lake, Stone Harbor, Ocean City and her favorite, the happiest place on earth. Ann loved everything Disney and tried to buy everything on Main Street on her trips to Orlando and even in the Magic Kingdom she was a leader, running the show from her scooter. She had a lifelong love of baseball (Phillies, college and high school) and thought nothing of travelling several states to see her son play. And when she became a grandmother she doubled down, never missing a volleyball tournament, soccer or basketball game. Her Christmas shopping started in January, the wrapping of the gifts in July. Her grands couldn't wait to go to her home for the weekend; movies, junk food and staying up way too late. Of course, she was a grandmother for her grandkid's friends as well as the whole area; her Halloween party was infamous, complete with prizes, gift bags and more candy than you could possibly consume. She was a lifetime member of St. Michael's.
She is survived by her son, Ted (Amy) and her grandchildren, Caroline (Karl Thomann) and Jeremy. Ann was the sister of Robert "Bob" Otten, John "Jack" Otten and the late Elizabeth "Cathy" Otten.
Come celebrate 78 great years Monday (March 21) 6-8 p.m. at Daley Life Celebration Studio, 1518 Kings Highway, Swedesboro. Mass of Christian Burial will be celebrated 10:00 Tuesday at St. Clare of Assisi Parish, St. Michaels Church, Gibbstown where friends and family will gather from 9:30 a.m. Interment St. Joseph Cemetery, Woolwich.