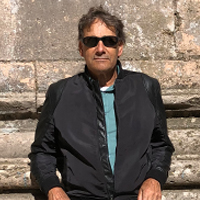 Andrew Roesler
Andrew Roesler
Andy would appear, usually out of the blue.  He'd spend some time with family; spend some time with friends.  And for some period of time you'd get to enjoy the Andy show.  It's tough to describe but you'd laugh at his wit and smile at his running commentary.  Just as quickly as he appeared he'd be gone: famous for Irish good-byes, most likely taking the Andy show off to some other Johnnies.  Or, perhaps they were Bobbies.  Andy was cool; wearing sunglasses indoors, dressed in black and not looking pretentious doing it. That kind of cool.  And you would look cool just being around him.  Andy had a powerful ear; he was a great listener.  Friends, family and clients knew Andy heard, understood and cared. When people were hurting he knew when to listen, when to give advice and when to hug. The guy who never had a passport before the age of 50 traveled the world.  Twenty countries in 17 years.  No need for a GPS, because he was never really lost; just on another adventure.  He'd stumble into some little European town make friends with a bartender and get set up in a bed and breakfast.  Sometimes twice in the same week.  And he was always trying to find some other way to get to places; major highways just weren't his thing; he'd meander down some small roads exploring as he went.  "Worrying doesn't help", he often counseled.  And he lived it: nothing seemed to bother him.  One exception may have been on the links. 
Andy was a fixture in the South Jersey golf scene.  He was calm on the course until he wasn't: he shattered many a club, but made many a friend along the way.  He started as a C.P.A with his dad many moons ago.  Andy may have been great at crunching numbers but he was even better and talking clients off the ledge during their toughest times.  Again, his listening brought comfort.  He made a mean Cesar salad and great meatballs, Andy was a serious cook.  He was a pretty good singer, a horrible dancer and never without some book he was into.  But he may have been most at ease at the shore.  He spent five summers on his boat before buying a home in Cape May. Of course he could always make a little time for Cruises to the Caribbean and Puerta Vallarta. 
Andy met a girl named Donna at the Coastline.  They had something in common: they disliked meeting people at the Coastline.  It would be a life altering moment. They shared a 12 year marriage: a true love story, each other's raison d'etre.  She'd get him to segue from studying geography to actually seeing the world.  From the moment they met, they were rarely apart. Andy is survived by his daughter, Valerie Darden (Jonathan), grandsons, Cole and Brexton, Donna's sons, Martin Weisse and Andrew Weisse, his brother, Bruce (Rebecca Weir), sisters, Jane Roesler Nesbit (Richard) and Sally Roesler (Craig Sexton), and was loved by his many surviving nieces and nephews and great nieces and nephews.
Come celebrate 66 great years, Thursday 1 p.m. at Broadway Theatre of Pitman, 43 S. Broadway, Pitman NJ. In lieu of flowers donation to benefit research into Neuromyelitis Optica at Guthy-Jackson Research Foundation Inc. (Guthyjacksonfoundation.org) will be appreciated.