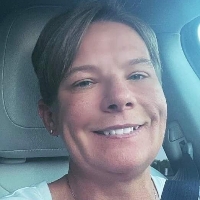 Amy Thum-Barber
Amy Thum-Barber
She loved you more. An amazing wife, mother, bonus mom, sister, aunt, and friend. If you knew Amy, you loved Amy. She was all about her family and her friends. She was the cool mom with the open-door policy; the Barber house became a sanctuary for all who needed it. Amy's life was filled with chaos, but the good kind. If she was not at home with her Cricut or watching the Hallmark channel; you could find her at Bridgeport Speedway. If she was not watching Pop or Eddie race; she was working her various roles and enjoying the show. She also made sure her community was safe, volunteering with the Woolwich Fire Company, especially when her husband was Chief. Throughout these different organizations that she was a part of and her kid's friends she gathered so many people. You could say she collected strays. If you asked her, she would have told you that she worked at Goodwill. However, it was not until later that she found her true calling – Mimi. She loved being able to meet her grandsons and spoil them rotten. She was the crock pot queen and made an awesome potato soup and pumpkin ziti. The recent years were anything but easy for her, but she always kept it light. With Amy's sense of humor you would never hear her complain as long as her nasal spray (crack) was close by. When she chose to leave Jersey, she was taking a ride "out West" or visiting her family in Georgia. She loved to travel when she could. She will be incredibly missed.
Amy Barber was predeceased by her father Daniel Hinkle and her mother Myrna Shurr.
She is survived by her Husband Ed Barber Jr. her "Pop" Martin (Denise) Shurr. Mother of Mikaela, Casey Jo, Eddie (Gabi), Lexi Lou, and Little Maykayla. Mimi of Tucker Daniel and Chase Edward. Sister of Susan Bland (Eric), Daniel Hinkle (Stephanie), Marty Shurr III (Michelle). Niece of Calvin and Florence Cossaboon. Aunt of Danny, Lily, Juliana, Sophia, and Theo. Godmother of Mason Shaffer and Zachary Williams. And survived by many more loved ones.
Come celebrate 46 great years Friday 5-7 p.m. August 26th at Daley Life Celebration Studio, Swedesboro and be prepared to tell a great story about her at her service at 7:15. And please give generously to Amy's gofundme at www.gofundme.com and search for The Barber Family by Lauren Fischer